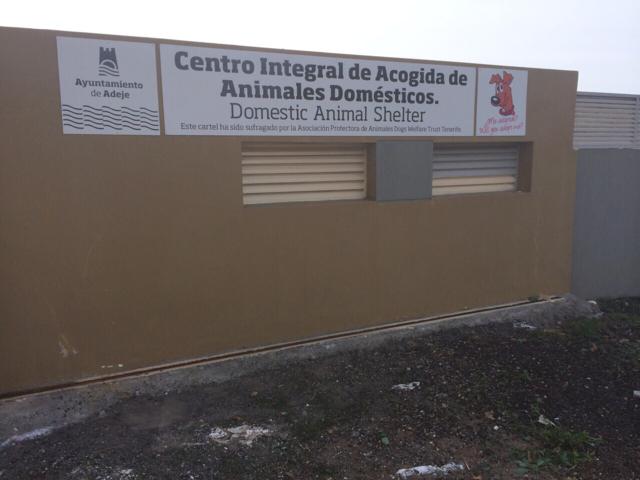 Adeje Refuge
When Dogs Welfare Trust Tenerife was formed, it was with the idea of taking dogs out of Refuges.
Whilst we all realize that Refuges are necessary, the less time a dog spends in a Refuge, the better.
Our policy from the beginning was to make available the adoption of a Dog to everyone.
We discovered that there are many people who would like to own a Dog but who just couldn't afford what was being asked for as an adoption fee so we have worked very hard to raise funds to be able to make the dream come true for those people in particular and of course, anyone else who would like to give an abandoned dog a second chance of happiness.
At the beginning of 2014, after having received numerous emails regarding the municipal Refuge in Adeje and being told that they were killing the dogs placed in their care, our President decided to investigate to see if the allegations were true.
An unannounced visit was made to the Refuge and surprise, surprise, all she encountered were happy, well fed dogs but difficulties in finding people who could adopt the dogs.
An emergency meeting of the committee was then held to discuss how we could help Adeje in their work as they are one of the only municipal areas that has bothered to address the problem and we all felt that they should be given every assistance and encouragement.
Obviously, this Refuge was built with taxpayers money so it is obvious that there is a limit as to how much they could spend on addressing the problem.
In these very difficult economic times, the authorities are taking in less and less money as people are struggling to pay their rates and other municipal bills, plus the fact that there are children all over this island who are going to school without the luxury of a breakfast, and this Town Hall are addressing that problem too, again with taxpayers money.
It is obvious, that this should take priority over an animal shelter.
Our President was in negotiations for five months with the Town Hall of Adeje to arrive at a suitable solution for all concerned and were finally able to sign an agreement with the Town Hall, to pay for all of the medical costs of any dog that found itself in the Refuge, thus making every dog totally legal and healthy ready to be adopted.
As Dogs Welfare Trust is a fully legal, registered Charity, by agreement of the committee, it was decided to embrace the meaning of the word "CHARITY" and make no charges whatsoever for the adoptions.
We have received immense support for our work but unfortunately there are always those quick to criticise and attack us for helping a municipal Refuge and for not charging for adoptions.
To those people, we would just say this " If you are a dog lover, as you profess to be, then why should a dog who finds itself in a municipal Refuge, be discriminated against and offered no extra help " We are now seven months into our agreement and little by little we are making improvements to the Refuge.
We are the first to have legalized a vetinary clinic inside a Refuge, so that when a dog arrives at Adeje Refuge that dog does not have to be transported to an outside clinic for the attention it needs.
We are currently now, tiling all floors of each enclosure with the help of public donations of tiles and we have also provided beds for every enclosure.
We will continue our work and upgrade where we can to make sure that the stay any dog has in the Refuge is as pleasant as it can possibly be because we really are working for the good of the dogs.
Our funds to carry out our work are all raised by the most wonderful team of unpaid volunteers who run our shop in the Apolo Center, Los Cristianos, and we are all so very very grateful to the public who donate goods for us to sell in the shop.
Every euro that is taken goes to the dogs care.
To our sponsors, who have also backed us we say thank you so much for believing in us and for your continuing help and support.
Please visit our shop and you will be able to browse through our books of happiness of all the dogs that we have helped since we started through various refuges and our now ongoing work with the Refuge in Adeje.